Commercial Services
Our team is ready to support you in any flooring project you may need. Whether you're looking to apply a commercial epoxy floor to a warehouse, showroom, airplane hangar, or general office, we can get it done. Read further to learn a little more about what our experts can provide for you. We guarantee quality service for any environment that needs epoxy coating.
Warehouse Commercial Epoxy Flooring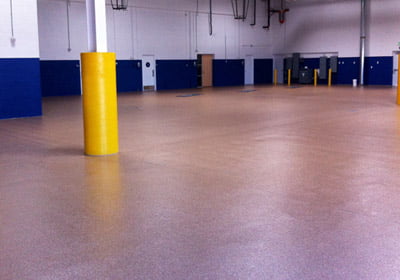 An epoxy application to your warehouse is a wonderful investment. This type of flooring provides a slip-resistant, impact-resistant, and fire-resistant finish for optimal protection.
This flooring style is not only durable, but it will give your warehouse a polished look like no other. Housekeeping will be much simpler, as it will only take consistent sweeping and mopping.
When you get our quality epoxy flooring installed or restored, you eliminate power washing your floor ever again. These flooring types are designed to withstand tire marks, oil spills, chemicals, food, or other damaging threats.
Our products and services are guaranteed to provide you with the look you want. Our large variety of epoxy color schemes can enhance and highlight stocking zones, loading zones, fork-lift driveways, and safe walking pathways. Contact us today for a free estimate!
Industrial Plant Commercial Epoxy Flooring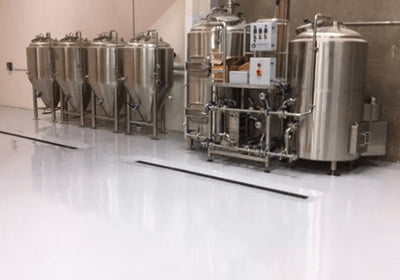 When it comes to facilities like an industrial plant, there are many reasons why epoxy flooring would be useful. Safety is every company's main concern, and our floor solutions offer the most protection.
Typical surfaces like concrete can hide certain types of chemical spills, dried food, water, and other liquids that could soak or stain the concrete.
That is why industrial epoxy flooring will work the best for a plant site. With a colored commercial epoxy floor coating, it will be easy to spot potential hazards.
Light reflection and room brightness can also be improved by applying a high gloss commercial epoxy flooring. Additionally, marking safe walkways, machine locations, Kanban zones, and other important areas is made easy with the several types of epoxy colors we offer.
Get a quote today for your next industrial floor project.
Parking Garage Commercial Epoxy Flooring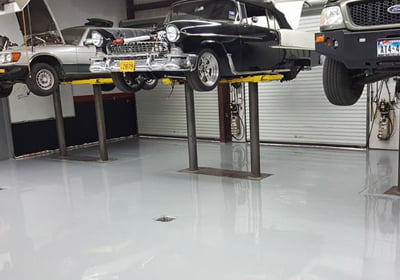 Maintain an excellent parking facility with a commercial epoxy flooring application. We have installed decorative branded and high functional epoxy coating in many parking garages.
The benefits of applying a commercial epoxy coating to your garage are unbeatable. This is a great investment if you care about protecting your parking garage concrete from moisture and other weathered elements.
Vehicle traction is improved as well as the functionality of inclined surfaces when applying an epoxy finish.
We urge you to please take advantage of our epoxy color and epoxy texture variations to clearly designate parking areas, safe walking zones, and social areas.
Auto Garage Commercial Epoxy Flooring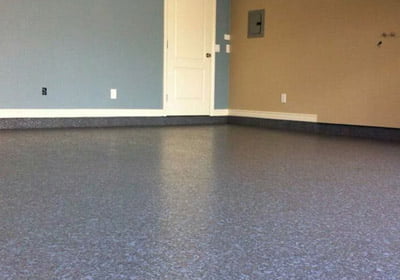 Applying epoxy flooring to a mechanic shop has become essential. This vibrant, clean, and durable surface will give your shop a welcoming effect.
As stated before, this surface is impact resistant and slip-resistant. Therefore, creating the safest environment for your mechanics to work in. Applying epoxy color variations to identify tool placement areas, clearly defined bays, and designated customer waiting areas is simpler than ever.
Epoxy floor surface is chemically hardened and has the capability to withstand constant uses of degreasers and floor cleaners for spills that are hard to clean up. In contrast to traditional concrete flooring, which is a hassle to clean oil, brake, or transmissions, fluid spills. Your worries can be a thing of the past with a brand new epoxy floor.
To learn more about your options, browse the photo gallery to see how we can make your space look brand new!